The generation settings and prompt input text fields are located on the left side of the screen on desktop resolutions.
Prompt and Undesired Content are different tabs of the same input field.
Goose Tip: Prefer the old, separate field? You can even detach the undesired content input field below the prompt input permanently!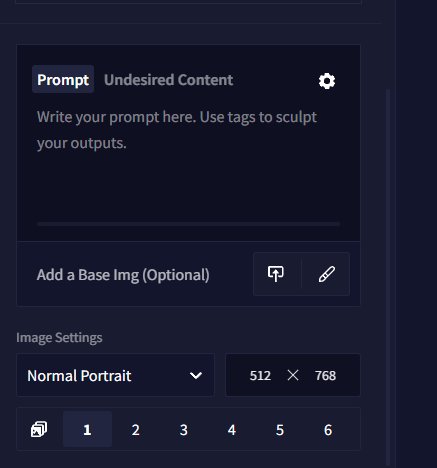 With Undesired Content, you can list anything you want the AI to avoid in future generations.
Goose Tip: See the AI generate something you don't want? Add it to the Undesired Content field and see if this stops the AI from generating things you don't want to see!
You can also select a preset from the cog icon to the top right of the Prompt box and combine it with your own undesired tags! The recommended ones are enabled by default.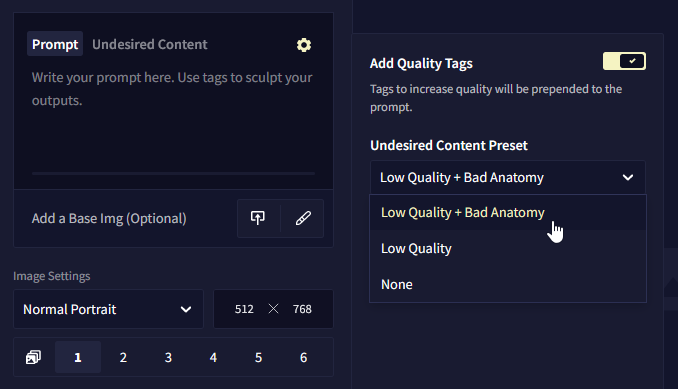 Sometimes you have to think outside of the box to avoid certain problems in generations.
Example: The tag freckles may create strange artifacts, so if you add tattoo to your Undesired Content, then it may remove the artifacts while keeping your freckles intact!
| | |
| --- | --- |
| An image with "freckles, body freckles" written as tags in the prompt box.                                                                    | Image generated with same settings, but with "((tattoo, facial mark))" manually added to Undesired Content. |
We noticed that by injecting our automatic presets, the AI avoids some general undesired aspects and produces higher-quality content. Here you can see what is added in each preset:
Low Quality:
lowres, text, cropped, worst quality, low quality, normal quality, jpeg artifacts, signature, watermark, username, blurry,
Low Quality + Bad Anatomy:
lowres, bad anatomy, bad hands, text, error, missing fingers, extra digit, fewer digits, cropped, worst quality, low quality, normal quality, jpeg artifacts, signature, watermark, username, blurry,
| | | |
| --- | --- | --- |
| No Default UC | Low Quality UC | Low Quality + Bad Anatomy UC |
Bad Anatomy:
{worst quality}, low quality, distracting watermark, [nightmare fuel], {{unfinished}}, deformed, outline, pattern, simple background,
Low Quality:
worst quality, low quality, what has science done, what, nightmare fuel, eldritch horror, where is your god now, why,
| | | |
| --- | --- | --- |
| No Default UC | Bad Anatomy UC | Low Quality UC |