NovelAI is an AI storytelling tool for anyone that desires to create and build their own stories, adventures or simply wants to fool around. By using our own trained AI models we offer an unprecedented level of freedom to the user. It has been described at different times as a writing assistant or a game, but, in truth, it's a limitless playground for your imagination. We hope to provide a user-friendly, customizable experience in line with your rights to privacy and transparency. We strive to become the leading AI storyteller on the market.
NovelAI has launched its open Beta, released on June 16th at 10 AM PT.
Users are able to access the Beta through a subscription to the NovelAI Service.
No timeframe for a full release has been set yet.
NovelAI Website
Discord
X (formerly Twitter)
Youtube
Reddit
Patreon
Blog
Our blog is where you can find the most in-depth details for our releases and research.
Feel free to tag us on social media, such as X (formerly Twitter) @novelaiofficial, and tag your generations with #NovelAI or #NAIDiffusion so we can follow the journey of your creations!
You can already access NovelAI through your mobile web browser. The NovelAI website is also available as a Progressive Web Application which you can download from the site itself through your mobile browser.
| | |
| --- | --- |
| Firefox: Install from website. | Chrome: Add to home screen. |
Additional mobile browsers may have a similar option.
There are currently no plans for a free version of NovelAI at this time.
That being said, we offer a Free Trial that provides 50 actions before and 50 actions after account registration!
Free trial actions are only provided once, with no refreshes. However, the action count may reset whenever we make big releases sporadically.
NovelAI will be using a monthly subscription model. There are currently three tiers.
Subscription Tiers:
Tablet: 10$ / month
Scroll: 15$ / month
Opus: 25$ / month
Read more about the subscription models here: Subscriptions.
We also offer purchasing of extra
Anlas if you're already subscribed to NovelAI.
We use Paddle as our payment processor. As long as your payment method is supported by Paddle; we can accept your payment. We plan to expand our payment options, which will be detailed as more information becomes available.
We host our own API, with our trained and finetuned models running on machines provided by CoreWeave.
Any computer or mobile device with an updated browser can run NovelAI, as long as you have a stable internet connection.
If you're running into any technical issues, make sure your internet browser is up to date.
We do not claim any of the material you create with NovelAI. Your Content is yours to the fullest extent of applicable law. However, it is possible for the AI to generate content that could be considered copyrighted material. If you intend on publicly sharing or commercializing whatever content you produce, please review your content. It is your own responsibility to ensure it does not infringe on any copyrighted material.
No your service will not be denied for NSFW material.
You, whether a legal or physical entity, retain all rights and ownership of your Content. We do not claim any ownership rights to your Content unless you specifically reach an agreement with NovelAI to forfeit or transfer your ownership to your Content.
If you have an active subscription you can upgrade for the difference based on the time remaining in the billing cycle.
If your subscription is inactive (eg. you already cancelled your subscription) the only choice is to replace the subscription, which essentially gets rid of your old subscription and you start a new one for the full price.
Subscription Anlas fills back up on the renewal date or stays the same if you unsubscribe, purchased Anlas remains unchanged, neither option expires.
You can find the NovelAI Terms of Service (ToS) at https://novelai.net/terms/
Please take good care of your login credentials.
Due to NovelAI's local encryption, losing your email or password results in permanently losing access to all of your remotely stored stories.
If you encounter errors when trying to cancel your subscription, feel free to reach out to us via the support@novelai.net  e-mail or, if you're subscribed through Paypal, unsubscribe directly from your PayPal account.
NovelAI defaults to a Storyteller mode that doesn't separate between 'user actions' and 'AI reactions' in the context. But we also feature a Text Adventure mode for stories, which has its own special User Interface and mechanics that support that style of commands.
If you've used NovelAI in the past there is a high chance you are still using Editor V1 which may cause excessive story load lag and lacks important functionality features.
More information about the Editor V2 and how to enable it can be found in this link.
Hitting enter or pressing the send button again helps the AI continue your story without the need for any additional inputs from you. Additionally, you may adjust the settings slider for Output Length under Options to increase the AI's output length!
Only you and the people you choose to share them with have access to them. We can not access or read your stories.
By default, text stories are stored on our servers, but they are encrypted in your browser, so all story data at rest on our servers is encrypted and nobody but you can read your stories. You also have the option to store your stories locally, but it's not recommended as there's risks of unintended deletions due to internet browser features.
Please note that while generating text with our AI systems, the requests sent to our servers will contain unencrypted bits of your story that are necessary for our AI to do its work. Of course this unencrypted data is not stored or logged and only transmitted over secure HTTPS connections.
You can find more detailed information regarding the story encryption in this blog post, under Encryption.
Yes. NovelAI currently supports JSON file exports. Letting you export your story as .story and .scenario files. Both downloads include all Settings, Memory, Author's Note, Lorebook Entries and AI Modules used in the export.
.story files will retain the retry history and prompt, edit and AI turn color coding of your story while .scenarios are kept as a single text node, keeping your story text body as a prompt.
You also have the option to export the story as raw text, as an image, or copy it straight to your clipboard.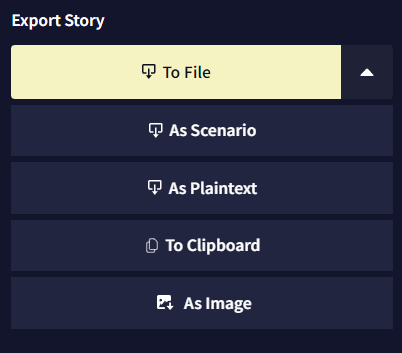 There is no limit on how many stories you can create or keep. We recommend using our 'story shelves' feature to organize your stories.
Stories can be shared between users by easily exporting them with one button, this includes all the Settings, Redo Tree, Memory, Author's Note, Lorebook entries and custom AI Modules.
You can also generate custom images of snippets of your story for quick sharing with the 'Screenshot' feature.
Phrase Bias lets you enter and set a bias for or against words, phrases, or single tokens. With this, the AI can be instructed to prefer or avoid particular words, phrases, or tokens in its generation.
You can add Phrase Biases for your Story or for Lorebook Entries and Lorebook Categories.
Yes. NovelAI offers custom themes, along with interface and text size options.
You can choose from a variety of color schemes or pick your own colors, and we also provide a selection of a few different fonts.
Additionally, NovelAI allows you to fully customize the Interface via custom CSS editing, featured in the Interface Options.
Exporting and importing theme files, including custom CSS edits, is also possible.
Accessibility is on our list of concerns. We like to offer an experience that everyone can enjoy.
As of now, NovelAI already features dyslexic fonts, colorblind themes, and font sizing.
Customizable, AI-generated Text to Speech is also a feature of NovelAI, and can be used to read out loud both user inputs and AI outputs.
The full list can be found in this link.
Tokens are how the AI sees pieces of text. As the tokens were developed based on how the AI was taught, their matching is not the same as syllables but it might help to think of them like that.
The AI uses tokens to determine the likelihood of what text should follow the words you input. Using all the tokens from everything you write and generate, the AI is able to determine all the possible ways for your story to go!
You can use the NovelAI tokenizers directly inside NovelAI by using the Tokenizer in the main drop-down menu!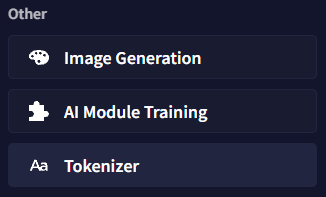 Our latest text-generation AI models should work well with any literary perspective you use,
so go with whichever one you like!
We have a very talented team that has been curating and cleaning pre-training data from a huge variety of works.
The size of our dataset is constantly changing with cuts and additions, but it's currently larger than 6GB in size.
There are no plans to publish our finetune dataset.
Think of Training as building a factory. Finetuning is giving that factory the tools to create something specific to your needs.
We promote community efforts to improve our finetune data and include it as part of our service, but individual users will not be able to run personal finetunes locally.
However you can custom train your own AI Modules for small prompt tuning! You can even share custom AI Modules with other NovelAI users! Note that this feature isn't available for all text generation models at the time.
We encourage you to discuss which content you'd like to see included in the training material. Suggestions will be considered by the finetune team on a case-by-case basis, as we want to maintain a high quality dataset for our model. Please feel free to contribute to the collection and cleaning of the finetuning dataset.
Visit the Discord thread HERE for more information if you wish to contribute. There are however no guarantees as to what will be included in the finetuning data.
We have implemented features such as Lorebooks and custom AI Modules that facilitate steering the AI in the direction you want, but we cannot guarantee that the AI will always do exactly what you want it to. In general, the AI is reliant on user input and story setup. The more effort you put into your writing, the better the AI outputs will be.
Only one AI model can be used at a time, alongside one module. You can select your preferred model from the model list, then pair it with a module of choice that better suits your current story.
You can change a story's model and module at any given time.
GPT-Neo and GPT-J are open-source alternatives to OpenAI's GPT models, such as GPT-3 and ChatGPT. This gives us the opportunity to experiment on the models and improve them over time, allowing us to add new features as we research more.
Our own models give us even greater freedoms on how we can improve them.
NovelAI offers several settings that you can use to affect the AI's output, including all default settings from HF transformers codebase, along with supplementary ones such as Tail-free Sampling.
You can learn all about them at our Slider Settings and Advanced Settings pages.
The AI will try to interpret to the best of its ability, but you may need to curate, refine and edit the AI's output yourself. You may supplement the AI with additional data through written context, or even custom modules when applicable. The AI's ability to predict or work with certain topics accurately will depend on what it has been trained/finetuned with, so no guarantees can be made.
The length of the text in itself is not limited, but your context window is limited by your subscription tier and the limits of the AI codebase, as of now the limits stand at 3072 tokens (about 12288 characters) for the lowest tier, and 8192 tokens (about 32768 characters) for the highest tier.
In other words, the AI can only 'read' up to a certain amount of words at a time, and it prioritizes the chunk of words at the bottom of the text, along other text that you specifically tell it to 'remember'.
No, none of your generations are stored or saved. Images are generated session wise. If you wish to keep the generated images, you must manually download them, otherwise your generations are lost upon refresh or when leaving the Image Generation page.
No, none of your requests, uploads, edits or generations are logged or stored on our side.
While being processed, your requests are also encrypted.
Images you upload are sent as base64 encoded text to prompt a generation, and are not stored on NovelAI.
NovelAI does not claim any ownership over the images you generate and waives any responsibility that arises from usage outside the service.
NovelAI does not claim copyright protections or ownership of any files. Images are treated as Content as defined in Section 1.4 in the Terms of Service. You must conduct your own research if you want to use your generated images for any settings outside NovelAI.
Your generations are session-based. Upon closing, all data is removed, and your history queue is emptied. Make sure to frequently save any content you want to keep permanently!
There is a handy button at the bottom of the history sidebar that downloads the session's history as a .zip file.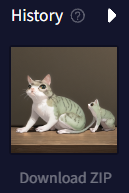 The prompt text, settings and seed of your generations can only be retrieved through the Exif data of a saved file. If you use the clipboard export option, it will not contain any Exif data. Images saved with right-click & save do not contain Exif data either. The save icon located to the bottom of the image has to be used for the data to be contained.
If you have the image in your History bar, you can use CTRL + Click to restore the prompt and the previous settings.
If you have a lot of repeat subjects, specifying the subject in your prompt might help as well, try adding defining tags such as "1girl" (or boy, animal or whatever your focus is), "solo", or "single focus", "couple focus" etc.
If you feel your generations lack a special something, then try adding tags that are a little more dynamic or exciting: masterpiece, cinematic shot, highly detailed, dynamic angle, cinematic shadows, action shot, deep shadows, intricate details, award-winning, beautifully lit, dramatic angle, intense angle, dynamic angle, cinematic lighting, cinematic angle, masterpiece portrait, dramatic angle, dramatic shadows, etc.
The AI associates your type of image with signatures like those found in artists' works, branding or on specific websites. It has learned the characteristics of different types of works, just like a person would.
Goose Tip: You can try adding unwanted generation aspects to your Undesired Content text field, or use Edit Image, paint over the area with a matching color and run the same prompt again.
No. The CLIP embeddings that text prompts are based on are not case-sensitive. Any capitalization will be ignored.
Double check if you are using an Image2Image upload or edited canvas by looking if there is a small thumbnail visible on the left of your text prompt input box.
Example: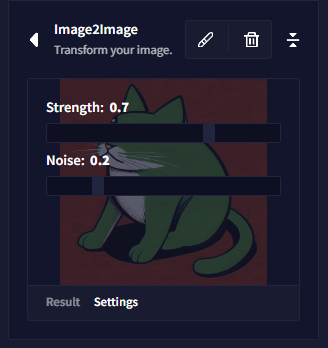 You may also be generating off the same Seed, which doesn't allow the AI to make any further adjustments. Take a look in your sidebar and remove the Seed number if necessary.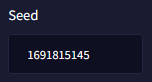 At this time, we do not plan to allow users to create their own Image Modules.
Nope, that's not quite how it works! Some great explanations on the topic can be found here: